Hey beautiful people. Its Tiffany back on beautiful wedding info, with more great blog posts about clothes, fashion, shoes and more. Today on my blog I wanted to delve even deeper than usual about some great fashion ideas, and inspiration for upcoming weddings.
Whilst helping Didi, my sister in law, plan her wedding we must've spent over 200 hours trying on various different shoes. There are so many different things to take into consideration for your wedding shoes and so many different mistakes that you can make. Didi eventually settled on some beautiful Vivienne Westwood Blue Lady Dragon Heart heels, which she bought second hand online from http://www.used.forsale/vivienne-westwood-shoes for a bargainous low price.




Wedding Shoe Mistakes.


1. Not breaking your shoes in.
One of the worst mistakes any bride to be can find themselves in on the day, is having a pair of shoes which hurt. Of course we all want to save our shoes for the right moment and make sure that we don't scuff them up. To make sure that they don't get ruined I recommend wearing your shoes indoors only. Under your desk at work, sat on the sofa at home...anytime!
2. Not choosing the right shoes for yourself.
It's so important to pick the right shoes that you want to wear. Whilst white wedding shoes might work for some brides, wanting to wear a bright colour might work better for you. Like it did for Didi with her blue Vivienne Westwood Heels. Also whilst you might feel that every other bride is wearing heels, but you need to know that they aren't you only option.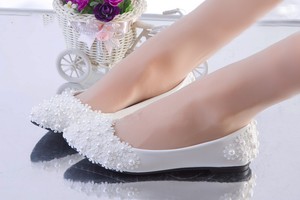 3. Not shopping around.
Shoes are expensive. Heels, even more so. Wedding shoes can be ridiculously overpriced. If you're only planning on wearing the shoes for one day in your lifetime then it's not worth spending all your money on an item which will be covered by your dress. Ordering online can help to reduce the cost. Make sure you check out second hand and vintage clothing online stores as these are some of the greatest places to get cheaper goods. Black Friday and after Christmas sales can also provide a great time to shop for bargains.
4. Not bringing a spare pair.
When Didi was getting married she brought along 3 different shoes to wear on the day. The first pair was the heels she was planning on getting married in. The second a pair of flats for the way home, and drunken dancing. And the third pair were a comfortable pair of heels which Didi would regularly wear on a night out. Remember heels can break and shoes can hurt so It never hurts to make sure you bring along as many pairs to help you out as possible. It is your day after all.
5. Skipping the mani/pedi.
Even if your shoes cover your toes and all the way up to your ankle its worth getting a pedicure. Whether you DIY at home, or head on out to a Spa it's a great way to add some luxury into your day. Not only will they look great on the day but they'll also look great for your honeymoon. And I'm sure you're not planning on wearing your shoes for that!
6. Not taking your shoes with you to your wedding dress fitting.
It is the best idea to make sure that you buy your wedding shoes prior to your first dress fitting. Not only do they play an important part into your overall look but they will also determine how long your dress needs to be. If you're planning on wearing heels you don't want your dress to skim your ankles awkwardly. Also if you're planning on wearing just flats then you don't want your dress to drag along the floor and get dirty.
And also 3 great shoe accessories to take on the day.
1. Leather Heel Grips.
Not only will these help avoid the back fo your feet from getting all cut up, but it will also help keep your shoes from slipping of your feet.
2. Sole Stoppers
You really doesn't want to find out that the non-slip on the bottom of your shoe has worn off. Bring these and wear them on the bottom of your heels to prevent slipping on the stage.
3. Insole
Place an insole into your shoe so that it feels like you're constantly walking on clouds.
So there's my quick rundown on wedding shoe mistakes to avoid! I hope this has been helpful to you all. If you need any more inspiration I recommend checking out the latest articles from Brides magazine. Thanks for stepping by and checking my little blog out.
Thanks, and hope to see you here again soon.
Tiffany.